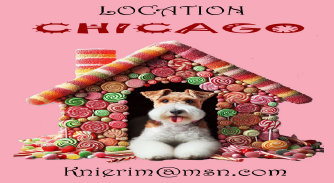 LILLIAN
Meet one of the newest members
of WFTRM in Iowa. This is
Lillian, AKA Cha-Cha, Little
Miss Lillian was found in a
shelter in Edinburg, Texas. She
looked like a tiny wire Fox? Or perhaps a Rough coat JRT? The shelter pictures were not clear, however it was crystal clear, this baby needed help ASAP. She was incredibly emaciated, weak, wobbly, unable to stand for long periods of time. Her ribs and spine were visible, sunken face and pale gums. Her skin looked pink, heavy flea infestation and thin hair coat. She needed a rescue pronto. We had a wonderful volunteer who offered to run and fetch her. Angie brought her home. Angie named her Lillian and took her in to see her vet. Lillian was treated for the fleas at the shelter. She responded well to TLC and lots of good food. She gained strength and weight. Lillian's early weight was under 9 pounds. Once stronger and ready to leave Angie, she traveled to Houston, spent some time with Tiffany Haines. Lillian melted hearts at every stop on her journey to Iowa. She Joined the 4 Red dogs rescue transport and they all arrived in Bethany, Missouri on Sunday August 1st. Lily has been in Iowa for a week and wow what a change in this little tiny princess. She has had a full health work up, fecal, 4DX heartworm test, full blood panel. Lily was slightly anemic but fortunately a very healthy girl. She will return on 8-31 for a spay, dental, microchip and final vaccination. Her flea bite dermatitis is clearing up well with twice weekly Malaseb baths and of course a protein packed nutritious diet. Lily needed to gain weight and get stronger before any surgery. She weighed 10.8 at her vet visit with Dr. Mallen. Lily still has a long way to go but she is gaining, Lily is quite energetic. She can jump like she is on a pogo stick. Loves to run and play fetch and she is fast. She races to get the ball and brings it right back with happy energy. Fetch is her most favorite game. She is also really well house trained, walks great on a leash and knows sit and down. Lily sleeps in her crate, with no issues. I think Lily once belonged to a loving home. She is well trained and very affectionate and social. She loves No Hide chews and carries them in her mouth. Lily will come racing for any food or treats she is very excitable at feeding time. I assume because she was starving it will take time for her to realize food will come every day. She likes to carry toys too. She has a harsh wire coat. She is very petite, tiny boned frame. Tiny Paws She has a wonderful sweet loving nature. She tolerates other dogs but very feisty if challenged by them. Typical female Terrier I think she would do best as an only dog with ALL the love and attention she deserves. Lily might be a great Fly ball or agility dog . She will be ready for her Forever Home journey very soon. She will be an awesome companion very petite and portable. Lily is ready all she needs is Love
WIRE FOX TERRIER RESCUE MIDWEST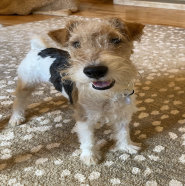 GALLERY OF DOGS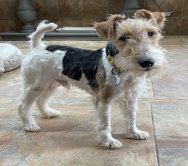 Spayed
Rabies Vaccination
Distemper/Lepto
Bordatella
Heartworm Tested
On HW Preventative
Micro Chip
Grooming

Send Application to
ccswires@netins.net
SPROCKET
SPROCKET is a spirited
little scamp of a Wire Fox
boy and all in a good way.
He made his way to WFTRM
Chicago with the help of an amazing Shelter and Rescue volunteers who made it possible for this sweet boy to now have the best terrier life. He is so happy to receive human attention and to be loved and wanted. He was a stray and is estimated to be about 3 years old and weighs 22 pounds. His coat is so coarse and wiry and appears to never have been groomed. Those curls on his wispy haired innocent face are irresistible. Sprocket is all about living for the day and life with the happiest of attitudes. He loves to Play and has upgraded from balls to big furry squeaky varmints. His favorites are the coonie, possum, chippie and squirrel. He will hoard a big pile on a bed because he loves them all and they don't deserve living in a basket. He will roll on his back with one in his mouth and is just in love with his toys. Sprocket really enjoys being outside – running these big laps and zooming around, rolling in the grass and lounging with his toy soaking up the sun. He is also fast on his feet and teases you with his catch me if you can and I am not coming in yet having too much fun game. He's a runner he's a track star - open that gate and he will go far. His personality is so genuine, gentle and good natured and such a sweet loving boy and is in heaven lounging and cuddling on the bed with you. He is a barker with a loud bark if he feels someone is outside, coming to the house or in the yard – he is going to be on guard. When he sees it is me coming home I get the best reception of tail wags and jumps. I took Sprocket to the groomer who could not resist but to hand strip his virgin coat and he was amazing considering it his first time. He was not good however for the scissors or clippers. Sprocket bonds with his person as all he wants is to be loved and not neglected. He does have some separation if left for a long period and needs someone home and to work with him to make him feel safe and loved. He would be thrilled with a home that has a fenced yard, lots of time to give him the attention, playtime, training, exercise and touch ups he needs and to be his soul mate. No small children would also be best. Sprocket has come a long way since arrival on socialization and is more at ease with other dogs and meeting them. He is very picky on friends – hates some and others are okay so for that reason an only dog home for now would be best. He loves to go in the car, for walks or wherever you are heading. Sprocket is a dream boy who will be nothing but joy for his Forever Home.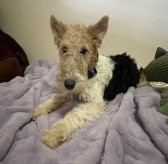 Send Application to
knierim@msn.com
Neutered
Rabies Vaccination
Distemper/Lepto
Bordatella
Heartworm Tested
On HW Preventative
On Flea & Tick
Fecal Check
Micro Chip
Grooming