WIRE FOX TERRIER RESCUE MIDWEST
Gallery of Dogs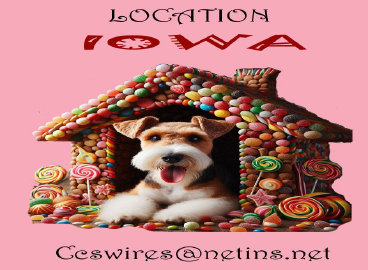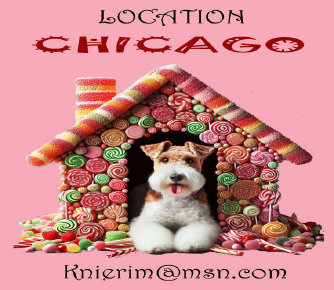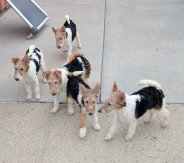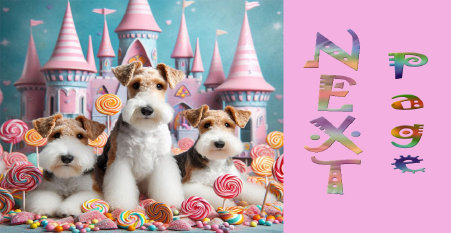 Felix
Felix was an owner surrender from Arkansas and as his family posted on the internet searching for a home for him "sometimes life is not fair" - it certainly had not been fair to Felix. He may have been born with birth defects but with neglect and no medical attention given, they only worsened creating a world of pain for this little Wire Fox boy. He is a true to his breed, a Wire Fox Terrier - strong willed and driven with a never give up attitude. Felix has a large black heart that covers most of his back - he was truly meant to be saved. Shocked that human beings could mistreat a dog and then publicly post for a new home but thankful we crossed paths and taken Felix into Rescue. His future would now be one he had always dreamed.
The outpouring of support and compassion for Felix is deeply touching and heartwarming. He is blessed to have all the prayers & support in helping him live a pain free and loved life. Thank You from the Heart to all who Donated to Felix's Special Fund for his Medical Expenses and his Recovery and made all his surgeries and procedures possible. Felix is Forever Grateful.
Felix had his life turn around for the better when he arrived at WFTRM on August 1, 2013. He had lived in constant pain and fear – yet through his determination to not give up had adapted to survive. Felix has undergone surgeries, recovery and rehabilitation and each day, each week and each month is a milestone. Felix has made tremendous progress and recovery and is ready to experience life as a pampered pet and pain free. Read his complete story from the beginning until now on the links above.
Felix does not let his disabilities get in the way of enjoying each moment and day. He is a very well behaved and house trained young fellow - loves to follow you around the house, curl up in a nice doggie bed nearby, lounge outside on a nice sunny day, and explore the fenced yard. Stairs are not an obstacle for him – he heads down the bridge and the seven steps into the yard for potty and is the only Wire Fox that follows the etiquette rules. Felix enjoys car rides - especially sitting up high in a Lil Snoozer Lookout Seat. His mouth has been repaired and Felix eats dry dog food and swipes nibbles from everyone's bowls. He also feels that everyone's doggie beds are for sharing too. When he sees the leash he gets excited and does one of his signature spins and goes along pretty quick but for long jaunts he likes to sit low in his Feefers Mobile and cruise eye level looking for varmints. He can tire out if he has a full day of activity or therapy and curls up in his bed for a nice long nap. Felix can also rough house – as best as his abilities – and uses his paws to play and get frisky.
Felix is fine with all other dogs - not afraid or intimidated. Felix does try and instigate play and wants to be chased like any other Wire Fox. Attention would need to be given to his safety and although Felix does not think he is different than any other dog – he has disabilities and would not be able to defend himself from even a chipmunk. Other dogs view the old, weak, sick or disabled with a different attitude and will want to pick on or injure them. Felix would be best placed as an only dog with someone who has time to spend and a nice fenced yard to keep him protected while he explores. Felix will not require extensive ongoing therapy his whole life. His leg is healing beautifully and the current visits are for strengthening and currently goes once a week for laser and water treadmill therapy. The right deformed leg probably should be removed in the spring of 2014 or later as it serves no purpose. He has gained muscle mass and strengthened his entire body and now weighs 18 pounds. Maintenance for his back and for the mouth joint would be as needed and have given him an anti-inflammatory such as Rimadyl which does the trick. An occasional visit for acupuncture would be a benefit for Felix. Because of the spine curvature, it is not likely that his posture will ever straighten fully. He is who he is and is now pain free and basically a healthy little guy with some obstacles which do not stop him from being the cutest little guy living each day to it's fullest. He loves ear and tummy rubs and especially your company, your love and your devotion. Felix is a special Wire Fox boy who brings great joy and reward to a heart and home.
After each visit to the back yard when Felix is heading back up on the deck, he quickly turns as if he feels someone or something is following him. After feeling ok, he continues on his way.
Please submit an Application so we may be able to answer any questions regarding a Rescue Wire Fox.
Felix has such a loving Fan Club and people who love him requests have been made to help Feefers continue Therapy. His special Therapy Fund button is below.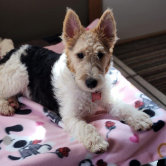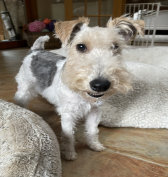 Click on above Picture To hear Felix report on Groom Day.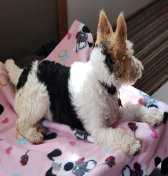 Click on above Picture To hear Felix report on his Bubble Bath
A new Sweater for Feefers to stay Warm