WIRE FOX TERRIER RESCUE MIDWEST
Gallery of Dogs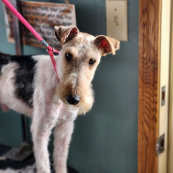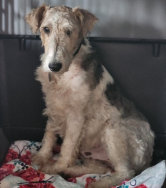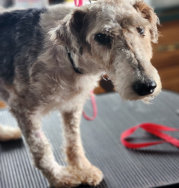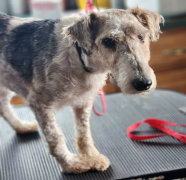 MAX
MAX IS LOCATED IN
Send Application to:
ccswires@netins.net
Another adorable Wire Fox boy has arrived in Rescue and his name is Max. This little guy is an owner surrender from Arkansas who wanted $100 to ensure we find him a good home. We were told quite a different story then the one exhibited by Max. He was supposedly loved and well cared for and had current vet work. Well that does not appear to be the case. Max came with no records and they would not supply the name of his former vet. We started from scratch with his medical needs at a vet in Arkinsas where he was boarded until he could be transported to Iowa. He was given basic vaccinations, fecal and Heartworm test. Max is Heartworm positive and once he arrived at Avenue of the Saints in Iowa it was confirmed Positive. He has been staged now with full blood panel and radiographs of his heart and EKG. Max appears to be in good general health. The radiographs did show Max has also been shot several times with a beebee gun as he still has some lodged in his body. The vet said as sweet as this guy is I cannot imagine why anyone would want to hurt him. His heart is enlarged, right side from the Heartworm infestation which means he has been HW Positive for some time. Normal is 9.5 to 10.5 Max is a 12.5 but the EKG is good and no sign of murmur and no cough. When the heart is enlarged from HW it is more serious and requires a slow kill of the worms. He was given the 1st injection of treatment and was being monitored in the hospital. Max will have to wait 30 days for the 2nd injection and 30 more days if it is decided he needs a 3rd injection, so he will be loved by us for a few months. Heartworm Treatment requires being kept quiet with close observation. I have taken several Foxies through HW treatment so I have experience with this and will care for him. Max has tolerated the 1st injection really well and is tired of resting and asking to play. He loves toys so much and having fun. He gets so excited when he sees a ball, squeak toy or anything he can play with. This morning I fed him in his own room and heard a commotion. He gobbled up breakfast, flipped the dish and was trying to start up a soccer game the dish was his puck. I have to watch him every minute he is not in his crate. He does not mind a crate at all so that will be our salvation. Bless his heart he is a true Terrier after all. They are the bravest of all breeds. Max is about 6-7 years old, very handsome, loving, likes other dogs and a perfectly wonderful guy. He has been given a Christmas Miracle and a chance at a new and wondrous life.
Neutered
Heartworm Tested
Receiving HW Treatment
Rabies Vaccination
Distemper Vaccination
Bordatella Vaccination
Full Bloodwork Panel
Fecal Check
Micro Chipped
Send Application to:
ccswires@netins.net
BAILEY IS LOCATED IN
BAILEY
Bailey is a sweet little 3 year old terrier who has had a rough year. She was picked up over the summer as a stray by a rescue, and adopted by a man who loved her very much, and took excellent care of her. Unfortunately her new owner's job is taking him over seas and he cannot take Bailey. Bailey is small, only 13 pounds, high energy, loves to chase balls, run in the yard, and take the squeaker out of stuffed toys. She does well on a leash until she sees another dog, bike, or car. She likes to chase tires and pick fights with passing dogs. Terrier attitude however she is very social and loves people. Bailey just needs a home as an only dog and Secure fenced yard to keep her home and out of trouble. Some obedience training should help correct this behavior. Bailey is house trained and has not had any accidents. She sits for a treat, comes when you call her, and listens when you tell her "NO". Bailey is fine home alone for a few hours would like a family who is not gone all the time and can spend time with her. She does well in her crate for 2 to 3 hours. She likes car rides and is a good girl in the car. She loves to sit on your lap and get pets and give kisses, or just lay in her bed and play with a toy. Bailey is Spayed, Micro Chipped, and up to date on all of her shots. She will see a Vet soon to check her teeth and overall health. After all she has been through, this sweet, pretty, little terrier needs to find her forever home! Bailey lives in Denver Colorado and is waiting for that perfect application.
Spayed
Heartworm Tested
On HW Preventative
Rabies Vaccination
Distemper Vaccination
Bordatella Vaccination
Fecal Check
Micro Chipped