WIRE FOX TERRIER RESCUE MIDWEST
Gallery of Dogs
Tootie
Tootie is a mellow and
lovable Wire Fox
Terrier girl who stands
no more than 15 inches
tall if that and is the
cutest little thing on this
terrier planet. She just
toddles about following you around, adores having her tummy rubbed and getting hugs and kisses. She has an animated and adorable personality and is always smiling. Tootie is friendly with everyone she meets and everyone just falls instantly in love with her. An attraction she is where ever she goes and at the animal hospital and is such a good patient too. She is laid back and courteous and such a pleasure to brush, bathe and bundle up in a towel and squeeze. Tootie is 7 years old and has a soft curly tri-color coat with lovely definition and markings. Her face is irresistible with neatly folded butterscotch ears and a cotton ball tail – not the norm but on her is just delightful and charming. Tootie was found abandoned in a thunderstorm in Tennessee lugging around a large lipoma under her arm which she had to suffer and bear the burden of. Her full Rescue Story can be read on our Website Gallery – Tootie & her Giant Peach. She is house trained, very well behaved, enjoys riding in the car and easy to love and care for. She will hang out with you in the yard while gardening, on the deck while reading or in the house while doing duties and lounges with the funniest froggie style position. Tootie likes toys like most Wire Fox Terriers and is smitten with her giggling koala bear, curly honking bear and little pink piggy. Treats are a favorite and also caught her staring at the refrigerator and now that she is healthy and dropped over 6 pounds from her procedure, she can be more active and totally fit. She is a tiny treasure and who deserves to live the pampered life with half the pounds. Tootie is a Peach!
Spayed
4 DX Heartworm Tested
On HW Preventative
On Vectra
Rabies Vaccination
Distemper Vaccination
Bordatella Vaccination
Fecal Checked
Full Blood Panel
Full Dental Cleaning
Lipoma Removal
Ears Cleaned/Cytology
Micro Chipped
Please submit an Application so we may be able to answer any questions regarding a Rescue Wire Fox.
Derby is a dapper
Wire Fox Terrier
whose beautiful
brown eyes are the
most soulful and
searching for
someone to be kind
to him and make him
feel loved. He has not
had the best life and his skin and eyes tell us a story. DERBY was relinquished to a Texas Animal Control by his owner - one who probably acquired him as a pup and neutered young judging by his duty routine. He is about 4 years old and weighs 20 pounds and his coat is in need of some TLC and time to grow back to full splendor. A good diet and proper care will have this handsome boy tip top in no time. Derby rides in the car like an angel and leash walking, manners, friendly with everyone and other dogs, and gentle as a lamb . . . he gets a halo for each one of these as well. So how could this happen to such a magnificent Wire Fox boy? It is suspected this boy lived on a horse farm or stables and was outside most of the time. Derby has fly bites on his ears and legs and all over. He is not itchy in the slightest but has been receiving soothing medicated baths to relieve and restore. His coat is dark and very coarse and wiry and excited to see how glorious it will be. Derby has had skin scrapings and cytologies at the animal hospital which were negative. His ears were packed with hair and debris and now deep cleaned, taking drops for a bacterial infection and is on antibiotics. DERBY is house trained and gladly heads outside to do his business and usually wants back in the house, unless he hears a noise he has to explore or if you are outside. If you are inside without him he will find what room you are in and sit outside the window, staring in with his lonely face and those eyes! He loves following you, lounging on a nice doggie bed and watching you and will come and lay his chin on your lap and look up at you with those eyes . . . those eyes! Derby is quiet, intelligent, knows many commands like sit and also what a harness is and got so excited when pulling the tags off and getting it put on. He is an excellent walker, trotting in a grand style and loved going the distance and seeing the sites. Derby is the perfect package for that Wire Fox loving home that dreams of having an obedient, friendly and debonair gentleman. Derby certainly would win the Triple Crown!
Tenner
Tenner has a new name since arriving at WFTRM. His original owner called him Zero but his temporary foster mom decided he is a perfect Ten. It seemed only logical to rename this big boy Tenner. He went from Zero to Ten in just a few hours and guess it's all about people who appreciate a Wire Fox Terrier. Tenner is a big boy with a harsh, thick coat and beautiful ginger color. He is a large Wire standing 19 inches tall at the shoulder and 29 pounds. He is not at all over weight. Tenner is neutered, vaccinations are current, micro chipped, healthy and ready to move on to a Forever Home. His first owner moved to an apartment that did not allow dogs so Tenner had to go. He seems quite happy and content at Rescue and loves the big fenced yard and all the other dogs to play with. Tenner is a cute, playful, and just a wonderful guy. He was born January 5, 2013 so he is still a youngster at heart. Tenner knows sit and how to shake with either paw, does a cute dance for
treat, is house trained, crate trained, loves walks but needs some work with leash training. He loves to play fetch and will actually bring the ball right back to you. He likes to sit on laps even though he makes for a large lap dog. Tenner is a joy to have around and will make some lucky family a wonderful companion. He has a happy attitude with a big smile and rode quietly in the car from KS to Iowa on his journey to rescue. Everyone who has met him loves him and you will too . . . he is a perfect Ten!
Please submit an Application so we may be able to answer any questions regarding a Rescue Wire Fox.
Neutered
4 DX Heartworm Tested
On HW Preventative
Rabies Vaccination
Distemper Vaccination
Bordatella Vaccination
Fecal Checked
Micro Chipped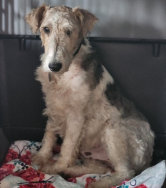 Derby
VIEW TOOTIE'S RESCUE MISSION & SURGERY -
CLICK BOX AT LEFT
Please submit an Application so we may be able to answer any questions regarding a Rescue Wire Fox.
Neutered
4 DX Heartworm Tested
Rabies Vaccination
Distemper Vaccination
Bordatella Vaccination
Fecal Checked
Skin Scrapings
Ears Cleaned/Cytology
On Revolution
Wormed/Verbantil
Micro Chipped