WIRE FOX TERRIER RESCUE MIDWEST
Gallery of Dogs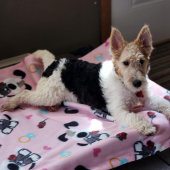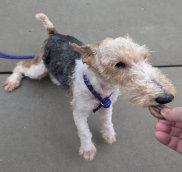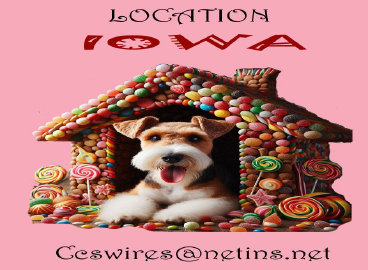 Putter
Meet our Putter, rescued
from a Shelter in Arkansas.
He was found stray on a
golf course of all places.
He has quite a ball fetish
so perhaps that could have
something to do with his
location. He is about 4
years old, weighs 16
pounds but needs to gain some weight. Putter walks nice on a leash, rides well in a car. He is house
trained and fine in a crate. Putter is a social butterfly - everyone who meets him loves him. He runs to greet people with a lively step and big smile. He is a happy jovial little guy who is content on your lap or playing ball. He is always ready for a cookie. Putter does fine with other dogs especially the girls. He will put up with bossy girls and just go on about his business. He is really small fry but is super fast. He needs a secure fenced yard to run and play in but he really enjoys being inside. He can do the cutest little dance for a treat. He is well mannered in the house but will require play time and exercise. He is doing well here and we love him but he is ready to have a "Forever Home" of his own. Putter will be a welcome addition and loving companion to some very lucky family.
Neutered
4 DX Heartworm Tested
On HW Preventative
Rabies Vaccination
Distemper Vaccination
Bordatella Vaccination
Fecal Checked
Ears Cleaned
Micro Chipped
Please submit an Application so we may be able to answer any questions regarding a Rescue Wire Fox.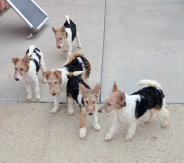 Hillary
Please submit an Application so we may be able to answer any questions regarding a Rescue Wire Fox.
Hillary is our newest Little Munchkin looking for a "Forever Home". She is a very petite 13 pounds, 2 years old and loves to snuggle on my lap or in our big dog bed. Hillary is on the timid side but that will change once she settles in and feels secure. She is fine with male dogs but she would love to be a pampered princess with all the attention. Hillary would do fine with play dates but she really would be happiest as an only dog. She loves to lie in the window and watch for any action going on outside. She is always ready to get out and explore on walks. She pulls but being so tiny makes her easy to control. Hillary would be a Star in obedience classes. It would boost her ego to succeed and earn praise. Hillary needs someone to give her a loving home of her own with lots of attention. Hillary came from a Shelter in Little Rock Arkansas. She was picked up as a stray and out of Luck. Hillary was covered with ticks, filthy and matted and not doing well in the shelter environment. Her luck changed the day we found her. She has had a full veterinary work up, spayed vaccinations are up to date, HW test and Micro chipped. She is a cute, comical, tiny sprite who will liven up your days with fun, laughter.
Spayed
Heartworm Tested
on HW Preventative
Rabies Vaccination
Distemper
Bordatella
Fecal Checked
Wormed
Ears Cleaned
Micro Chipped
Putter was seen at Avenue of the Saints Animal Hospital on September 2, 2014 for an unusual gait in his rear. An extended view radiograph was taken of the rear legs. It was noted that the right patella was luxated. On palpation the patella (knee cap) was fixed over the medial condyle versus on the side of the condyle which is more commonly the case. The nature of this lesion leads us to believe that it was a traumatic injury that caused the patella to luxate and not a congenital defect. Surgery is recommended to improve the mobility of the leg. Prognosis for recovery and improved mobility is good.
Mia
Mia is a busy Wire Fox girl and every nook needs to be nosed into. From closets to trunks to purses – she has to check it out. She is a very pretty girl who is about 3 years old and weighs 19 pounds. Mia is house-trained and crate-trained, although she prefers you be nearby when she is crated, otherwise she cries a little. She walks pretty well on a leash and does not pull much but she prefers the zig zag route so one has to be careful to avoid being tripped up. She loves riding in the car and watches out the window most of the time. Mia likes her toys and squeaky ones really get her attention. Outside, she is a hunter, and every little critter gets her complete focus as she assumes the pointer-pose with one paw up. When she first arrived, she had an injury to one paw, and for the longest time, I thought the other paw was also injured as she held it up so often. Eventually, I saw it was just her pointer-ness on display. While she doesn't care so much for other dogs, she is a very sweet girl and loves her lap time and just being carried around. Mia is bossy and likes to alert the neighborhood when another doggie crosses her path. She has nicely set ears with a perfect fold, a lovely tri-color with a nice big black saddle on her back with a little brown mixed in. Mia would make a wonderful Wire Fox friend to a Forever Home looking for one special girl.
Putter had a very successful surgery to repair his knee on September 16, 2014. When he returned to the vet to have his staples removed, she was happy with the progress. He can walk on the leg when he wants to, no swelling and good range of motion. He still picks it up if he is in a hurry. Putter seems to be pain free now and I am to begin taking him for walks short walks at first then add distance as we go. Walking on a leash forces him to use the leg more. I have ceramic tile floors and he knows they are slippery so I have put several long runners all over the kitchen and dining room and he can go from rug to rug. Putter seems so happy these days I know he feels better. He is still smiling.
Please submit an Application so we may be able to answer any questions regarding a Rescue Wire Fox.
Spayed
Heartworm Tested
on HW Preventative
Rabies Vaccination
Distemper
Bordatella
Bloodwork Panel
Full Dental Cleaning
Fecal Checked
Wormed
Ears Cleaned
Micro Chipped