WIRE FOX TERRIER RESCUE MIDWEST
Gallery of Dogs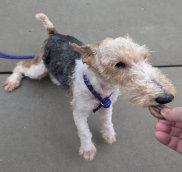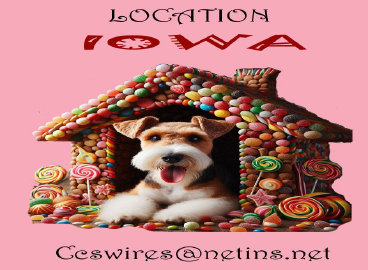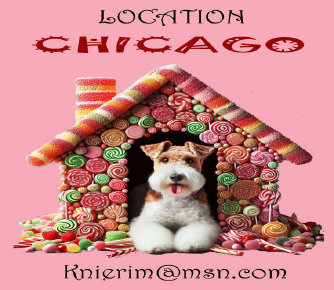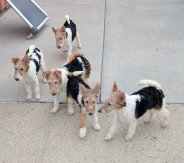 Austin
AUSTIN IS LOCATED IN
Send Application to:
ccswires@netins.net
A really Cute Fire Cracker
arrived in Iowa this 4th of
July weekend. He flew all
the way to Iowa from Texas.
He is a fire cracker full of
Endless energy, curious
about everything, loves to
play fetch, and chasing water from the hose is really fun. We named him Austin. He is a young guy around 3 years old. Handsome Boy who is lots of fun. Plays hard then crashes for a short nap. He is like a soft cuddly teddy bear when he snuggles on your lap. He loves to sleep with you too if you allow it. Austin has a gentle loving somewhat shy temperament when working with him. He enjoyed his spa day and bath, very patient with the combing and clipping. He would be beautiful hand stripped to bring back his awesome colors and harsh coat. Austin is a healthy happy boy who is ready to find a Forever Home. He does not like to be left home alone so a family with someone home most of the time would be perfect. He is busy always has nose to the ground looking for game and something to chase. We do require a secure fenced yard for him to run, explore and play fetch in. Austin does well with other dogs. He is well house trained, not wild about a crate, Loves walks one of his favorite activities if he sees his leash be ready to go. He is a zippy fun guy with a positive attitude, ready for the next adventure. He would like a family who has similar interests Austin will make an awesome companion.
Neutered
Heartworm Tested 4DX
On HW Preventative
On Flea & Tick
Rabies Vaccination
Distemper Vaccination
Bordatella Vaccination
Groomed
Micro Chipped
Charlie
Welcome Charlie to our
rescue. Charlie was an owner
surrender because he does
not like small children.
Charlie growls at the
Grandchildren his mom took
care of everyday. He is an
adorable little guy who
enjoys a quiet life. He loves
his doggie beds, pillows, squeak toys, long walks. Charlie lights up if you ask him to play fetch. His little tail wags so fast it's a blur. He wiggles and is so happy when I play or just pet and talk to him. He loves to jump in your lap and snuggle to just sit and be talked to. Charlie loves all the attention, gets along well with other dogs but he would be most happy in a home of his own. Charlie guards his food so it's best to feed him away from everyone and let him just enjoy his dinner. Charlie loves his car rides and sleeps in his own little bed in your room at night. He is extremely well mannered in the house. He is well house trained and never needs to be crated. Charlie can sit, sit pretty on his back legs and dance for a treat. He loves treats. Charlie is also a great hunter and keeps his yard free of squirrels, Chippies, birds, rabbits, bees and almost anything that invades his turf. He patrols to make sure his family is safe. His mom was very sad to leave him here. They loved Charlie and told me how smart he is, perfect in the house and went everywhere they went in the car. He loved to ride in the truck with his dad. He had a good life, wonderful care and a great home. It's a shame he couldn't learn to ignore the kids. He never tried to bite just growled and asked them to back off .The children were too young to remember only 2 and 4 so there was a fear something bad would happen especially since they were there Mon. through Friday. He followed them around the yard and would lay several feet away seemed to enjoy watching them play. Charlie needs a home with NO children. He is social and happy with adults, likes to own and take care of his owners. Greets people with a social attitude. I think an ideal home for Charlie would be with a single person or couple who is retired and lives a quiet life. Someone who understands a Terrier and enjoys their special personality. A special person who likes to take long walks, car rides and is just looking for a fun companion. Please let us know if you think you are that special home Charlie needs. We would love to hear from you.
Neutered
Heartworm Tested 4DX
On HW Preventative
Rabies Vaccination
Distemper Vaccination
Bordatella Vaccination
Blood Work
Dental Cleaning
Micro Chipped
CHARLIE IS LOCATED IN
Send Application to:
ccswires@netins.net