WIRE FOX TERRIER RESCUE MIDWEST
Gallery of Dogs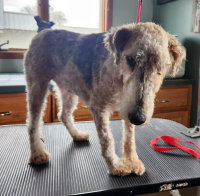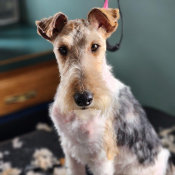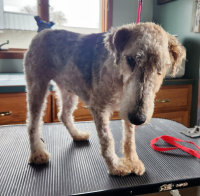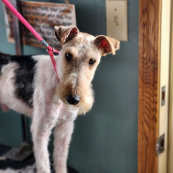 Frazier
I have a new love here in Iowa. His name is Frazier, 8 years young. He came to me as an owner surrender from Mississippi. His former owner passed away and he went to live with her daughter who just didnít have a way to keep him and give him the life he was used to. Frazier is simply adorable. He is calm, minds his own business and just putters around checking everything and all the other dogs out. Frazier is awesome with other dogs. He doesnít like to share his food, or treats so we are careful to give him space. He is so cute when I ask him to sit he holds his paw out. I suspect he has been taught to shake hands? He knows the sit command and will go into a Beg position. He is so fuzzy and cute. He had a bath, nail trim and clean up clip and comb out at a groomer right before he arrived. He is very well house trained, sleeps in his own crate and loves to find Sun puddles where itís nice and warm. Frazier walks nice on a lead, loves to explore my fenced yard and hang out with the other Foxies here. He seems to be fine with traveling. He had a long ride from MS to Iowa all in one day!! He sat on my lap and licked my cheek all the way home from our meeting place. He would make an ideal companion for a family who has a quiet home with lots of love and attention. Frazier doesnít ask for much really he is a patient calm guy. He doesnít seem to like to be on the furniture. He loves plush Squeak toys. He hasnít been here long and I am sure as the dayís move forward I will discover more about this adorable little guy. One thing is certain he is an easy boy to love and a joy to have as a foster fur kid. Frazier is looking for a new Forever Home He is as soft as a cloud and so huggable.
Neutered
Heartworm Tested
On HW Preventative
Rabies Vaccination
Distemper Vaccination
Bordatella Vaccination
Fecal Checked
Full Blood Panel
Dental Cleaning
Ear Cleaning/Exam
Micro Chipped
FRAZIER IS
LOCATED IN
Send Application to:
ccswires@netins.net
Bristol
Please welcome Bristol to
the Holiday table as he is
sure to be the life of the
party. He is an adorable
guy who is 4 years old and
average in size at 18 pounds
but packed with personality
and play. Toys are totally the best in his book and playing tug he is on top of his game. Jumping around, shaking them, flipping in the air Ė he welcomes everyone to join in the fun. Bristol loves his beds, especially if there is a furry blanket inside and he runs and pounces into it, rolling and rastling around until it is just right. He is crazy for going on car rides and tries to get in the back seat every chance he gets. Even circling the car waiting for an open door. Bristol gets excited to be going on an adventure when on a leash, wanting to play tug with it rather than pay attention to where he is walking. He is a friendly boy with other dogs, wanting to play and be pals. Bristol is very well mannered, house trained and crate trained and sleeps well through the night in his bed. A very good boy is what it says on Santaís list and he is sure to be getting plenty of toys and treats in his stocking. He was also very good for the groomer and made lots of new friends. Bristol is an owner surrender who loved him and took him in as a puppy. They were not accustomed to the terrier-tude, energy and also had an elderly collie who was not the best play pal. They wanted him to be with a Wire Fox experienced and loving home and made the decision to contact WFTRM. He loves to be with you every step of the way and also hops on your lap for some extra close time. Bristol is such a wonderful Wire Fox boy and his new family will be so grateful for him being a member.
BRISTOL IS
LOCATED IN
Neutered
Heartworm Tested
On HW Preventative
On Flea & Tick Preventative
Rabies Vaccination
Distemper Vaccination
Bordatella Vaccination
Fecal Checked
Ear Cleaning/Exam
Groomed
Micro Chipped
Send Application to:
knierim@msn.com