WIRE FOX TERRIER RESCUE MIDWEST
Gallery of Dogs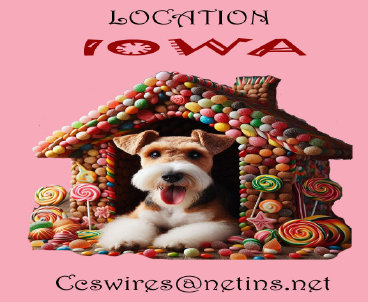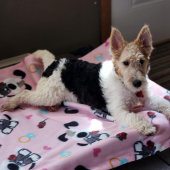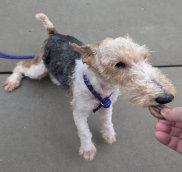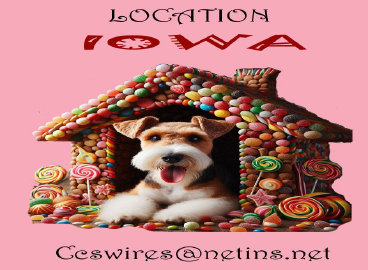 Halle
HALLE IS
LOCATED IN
Send Application to:
knierim@msn.com
Halle is a Welsh Terrier puppy
who could not be any cuter,
cuddlier and so scrumptious to
hold and rock. She is a typical
terrier puppy – fearless and fast
and frisky. She is very playful
and friendly, loves to chase the
big girls in the yard and have fun.
She is a smart little girl and knows when to turn it off and calm down and turn on the charm. Halle was born May 18, 2015 and weighs 10 pounds. She has a gorgeous richly colored coat with a fuzzy top you cannot resist swooping up into a Mohawk. Halle arrived at WFTRM Chicago along with her mom and dad, Hagen and Hamlet. The three were released by their Kansas breeding mill due to being bred 3 times and each time a puppy had some kind of birth defect. Lucky day for these Welsh three as they now get to be loved and spoiled as pampered pets. Halle had a dilemma with completing her #2 delivery in functioning regularly and adequate bowel movements. Her stomach seemed distended and she was in a lot of discomfort. She was checked into the animal hospital to get to the bottom of her troubles.
Spay to be Scheduled
Heartworm Tested
On HW Preventative
On Nexgard
Rabies Vaccination
Distemper Vaccination
Bordatella Vaccination
Fecal Checked
Wormed
Full Blood Panel
Urinalysis
X-rays
Ear Cleaning/Exam
Micro Chipped
On September 14th, Halle went to Midwest Animal Hospital to have a barium test to view how and if her colon works and flows. Well it was not flowing and was completely clogged. She spent the week at the hospital having daily enemas and x-rays to clean her out. It was apparent that she has been constipated since being with her breeder who was aware of the issue and wrote notes about giving her mineral oil. Breeding facilities do not feed a good diet or proper one. She was not going to clean out her colon on her own as it was in there so long it hardens and turns to clay. This can stretch the colon to appoint where the muscles and nerves stop working and contracting. Halle was also put on Cipraside, a drug used in part to help the colon contract. After a week she was released on the weekend and plans were made with the surgeon to discuss megacolon surgery which would remove a portion of her colon and reconnect it.
Halle spent the weekend not eating and especially Sunday – she would run and play and stop and try and assume the bowel movement position only to be unsuccessful. This went on all day long. She was scheduled for another enema on Monday and she continued taking her stool softeners. Monday morning September 21, Halle had an early morning surprise stool followed by a huge surprise which looked like the majority of her colon. She ate well and played hard that day. On Tuesday morning, a similar size bowel movement was in her room on waking up. Plans were put on hold to talk about surgery. It has been two weeks now and Halle continues to be able to have large bowel movements on her own. She is on a diet of puppy food, canned food with miralax sprinkled and mixed together. This and the exercise seemed to be just what she needed to get things working.

Halle does have a birth defect where her vulva is in close proximity to her anus, so much so that it appears the lower portion of the anal sphincter muscle was not developed or is missing. This was initially thought to be the cause of her constipation however she has no trouble now going on her own. She does on occasion have trouble releasing the last portion of her stool but she has adjusted and has her own method of getting it to release. Halle did have a bladder infection after a urinalysis was done and she is on Clavamox and doing great. Her week stay at the animal hospital with enemas was able to clean her out and with the right diet, stool softener and exercise she has been going on her own every day for 2 weeks now. She will not require surgery and does not have mega colon - a condition where the colon does not work at all. She will need to be on a special diet and get lots of exercise to maintain a healthy life. Halle is such a special little Welsh pup - full of life and lots and lots of kisses to give.
Maxx is the nicest Wire fox boy. He is about 5 years old and weighs 27 pounds. He has a large frame, but needs lots of exercise and some attention to his diet. Otherwise he is a very healthy guy. Maxx is super friendly with people - loves to let them know how friendly he is and get that in return, and he does it without jumping all over them. He was very well behaved at the vet and walks very well on a leash. His favorite past time is sprinklers – just loves the water and chasing it and frolicking around in the water. Even while out on a walk if he sees a sprinkler going in someone's yard he wants to go have some fun. Maxx is well mannered in the home as well, comes when called and sits patiently and obediently for a treat. Loves sitting on your lap or just next to you and getting petted. He is a bit camera shy and trying to get more photos of this lovely boy. Maxx was surrendered to a Texas shelter by his previous owners and after he was adopted out to a home with another dog and they did not get along, the Shelter felt it was in Maxx's best interest to release him to Rescue. His stay in a kennel situation was not to his liking and being bounced around and unwanted – he deserves that terrier experienced home that loves the breed and the whole package. Maxx is funny, full of life and a loyal friend and would love a Forever Home to curl up in and relax.
Maxx
Neutered
Heartworm Tested
On HW Preventative
On Nexgard
Rabies Vaccination
Distemper Vaccination
Bordatella Vaccination
Fecal Checked
Canine Influenza Vacc.
Full Blood Panel
Dental Cleaning
I.V. Fluids
Ear Cleaning/Exam
Micro Chipped
MAXX IS LOCATED IN
Send Application to:
knierim@msn.com