WIRE FOX TERRIER RESCUE MIDWEST
Gallery of Dogs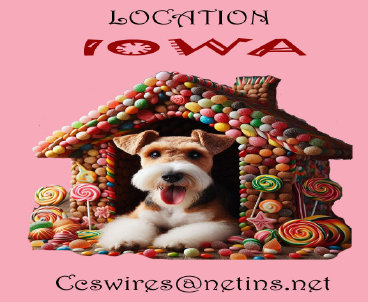 Bodie
Bodie came to WFTRM
from a shelter in TN.
He was surrendered
there by his owner who
had previously adopted
by him at this same Shelter.
In my opinion even though
it seems sad this was Bodie's lucky day . He can now find a family who loves him and will give him proper care and a Forever Home. Bodie had been living outside with a dog house. The man also claimed he did his own vet work? He did not have DVM after his name. He had neglected to do a Heartworm test or keep Bodie on prevention because he tested heartworm positive. He has had the treatment. No further treatment needed it's just very important to keep Bodie on Heartworm prevention year round. Bodie is doing fine. He was not showing any clinical signs and he seems to be in perfect health. He was a surprise package once we met him. Everyone who transported Bodie was amazed at how large he is. Bodie stands 23 inches tall at the shoulder and weighs 50 pounds. He has to be some sort of mix with Wire Fox Terrier however at this time we don't know for sure what that mix is. He is small Airedale size. He has a wonderful thick beautiful coat and colors. He loves to be brushed. Bodie is a Gentle giant. He is a big loveable cuddle bug. His big brown eyes and smile could melt anyone's heart. He is very calm and easy going. He does not jump on people or furniture. I am trying to show him how nice doggie beds are at this time he prefers the floor. Bodie seems to be very curious about other dogs. He gets excited and would like to play. I have not seen any signs of aggression. He can't play or run now because of the H/W treatment he needs to be kept quiet for about a month. Bodie is really catching on to living in the house. I can tell he is amazed at just how pleasant life can be, he now smiles a lot and his eyes look so much happier. Bodie is learning how to shake some toys, Loves cookies and is learning how to Sit. He also learned to take cookies Nice. Leash walking needs work. Bodie is Very strong and when he pulls it's like a team of horses. He is like all Terriers. Bodie is Very intelligent, willing to learn, strong willed but working with firm positive training methods he catches on fast. Bodie loves to please me. He cowers if I move too quickly. I am certain someone has been very rough with my Gentle Giant. He was very shy and timid when he arrived and seemed concerned about all the normal household noise. Bodie is still somewhat timid, still spooks at sudden loud noise or movement but he has greatly improved and is relaxing. I use a Belly Band for house training. It works like a charm and I take him outside at least every two hours. He gets ton of praise when he potties outside. He sleeps in a large crate and has never had an accident in his house. He is fine in his crate and will bark if he wants to get out. Bodie would be a perfect companion for a family who has Terrier experience and understands how to work with him. Positive reinforcement to gain his trust is required. He needs exercise in a fenced area. Bodie is looking for that special person or family to bond with and teach him be belongs. His confidence will soar with love and proper training. Bodie is waiting for his forever family to find him.
Neutered
Heartworm Tested
Heartworm Treated
Rabies Vaccination
Distemper Vaccination
Bordatella Vaccination
Fecal Checked
Ears Cleaned
Micro Chipped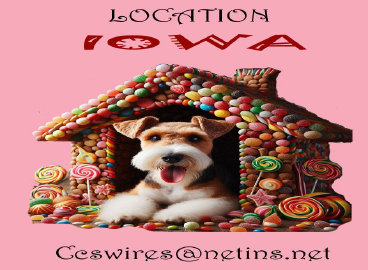 Kelly Jean
Kelly Jean is a lovely Lakeland Terrier girl who is searching for a loyal companion and best friend. And her good friends call her KJ as she is just so special. She is energetic, happy and playful and one would never guess her age. Her grizzle coat is gorgeous and soft, great conformation and is just the prettiest little girl. Kelly Jean is a retired show champion who was relinquished to an Ohio Humane Society by her elderly owner. He and his wife were long time Lakeland Terrier show breeder. His wife became ill and passed away in 2013 and he could not continue to care for the dogs or even his home. Kelly Jean spent a couple months in the Shelter and then on to several foster homes. She so wants to belong to someone and be treated and pampered as a pet. Her past life consisted of a lot of kenneling and not enough human affection and attention and she is so longing for that life now. Lounging on your lap or snuggled up close on the couch is heaven for KJ and being petted, talked to and kissed is the icing on the cake. She walks on a leash very nice, rides in the car very nice and is very nice for every task whether grooming, brushing or tending to an issue. Kelly Jean enjoys running and leaping in the yard and very obedient on commands and coming when called. She is a very smart girl with a big heart that is simply sad and aching for a Forever Home. The Shelter was told she was born in November 2004 however the birthdates of the other Lakelands surrendered was March 16, 2004. KJ would love a home that was on the quieter side. The other terriers barking gets her trotting in circles and reliving days of being in a kennel which was not a pleasant past. She would thrive with someone who is home more often than not to spend time and follow around. No small kids as she can be very protective and jealous once bonded. A fenced yard is also best as she is not one who was used to or likes to do her duties on a leash. Kelly Jean is healthy and has so much love, laughter and Lakie fun to give.
Spayed
4 DX Heartworm Tested
On Heartgard
On Nexgard
Rabies Vaccination
Distemper Vaccination
Bordatella Vaccination
Fecal Checked
Full Blood Panel
Urinalysis
Micro Chipped
KELLY JEAN
IS BEING FOSTERED IN
LAKE ZURICH, ILLINOIS
BODIE IS LOCATED IN
Crispin
A new little fellow arrived at WFTRM and it was his lucky day. Crispin was found as a stray in southern Indiana and we were contacted by the Shelter to help with him. He hitched a ride on their transport up to Felines and Canines in Chicago where we met the van and accepted our cute little bundle. The spunky adorable little Wire came with a fairly large fatty tumor under his left front leg/torso. Crispin went to Midwest Animal Hospital to have the growth removed and get a dental. Unfortunately during his thorough examination and blood work up, a heart murmur was detected of a higher grade . . . 3 or 4 which is too risky to have him put under at this time. He is going to need a cardio evaluation and echocardiogram performed. The hospital ward is currently occupied by Whiskers, so he received a much needed spa day and off he went to join the foster dogs in Iowa. Crispin seemed to enjoy his journey and sat in a car seat or a lap and was happy to just take in the view. He ran around the yard a while, came in and ate, had a drink then snuggled in and slept like he had not slept in weeks. The Shelter or Kennel can be a scary place for Wires. The little guy is so happy to be in a home instead of a shelter and think he just relaxed and sort of crashed. Crispin is so sweet, loves to be talked to and petted. He met Toodles, Maverick and Sparkle so far and is doing Great. He is a darling little guy. He is around 7 years old and weighs a sprite 15 pounds. He has a vet appointment on Tuesday January 27th. Prayers his Heart issue is not serious and the big lump on his side is just a simple Fatty tumor and can be removed with no problems or complications.
CRISPIN IS LOCATED IN
Neutered
4 DX Heartworm Tested
On Heartgard
Rabies Vaccination
Distemper Vaccination
Bordatella Vaccination
Fecal Checked
Full Blood Panel
Urinalysis
Xrays
Groomed
Ears Cleaned/Cytology
Micro Chipped