WIRE FOX TERRIER RESCUE MIDWEST
Gallery of Dogs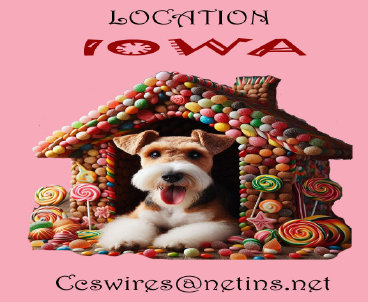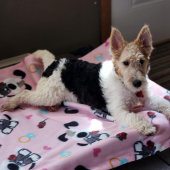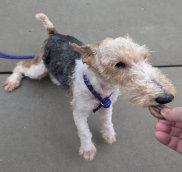 Putter
Meet our Putter, rescued
from a Shelter in Arkansas.
He was found stray on a
golf course of all places.
He has quite a ball fetish
so perhaps that could have
something to do with his
location. He is about 4
years old, weighs 16
pounds but needs to gain some weight. Putter walks nice on a leash, rides well in a car. He is house
trained and fine in a crate. Putter is a social butterfly - everyone who meets him loves him. He runs to greet people with a lively step and big smile. He is a happy jovial little guy who is content on your lap or playing ball. He is always ready for a cookie. Putter does fine with other dogs especially the girls. He will put up with bossy girls and just go on about his business. He is really small fry but is super fast. He needs a secure fenced yard to run and play in but he really enjoys being inside. He can do the cutest little dance for a treat. He is well mannered in the house but will require play time and exercise. He is doing well here and we love him but he is ready to have a "Forever Home" of his own. Putter will be a welcome addition and loving companion to some very lucky family.
Neutered
4 DX Heartworm Tested
On HW Preventative
Rabies Vaccination
Distemper Vaccination
Bordatella Vaccination
Fecal Checked
Ears Cleaned
Micro Chipped
Please submit an Application so we may be able to answer any questions regarding a Rescue Wire Fox.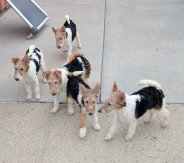 Mokie
Welcome Miss Mokie to
WFTRM. Mokie was in
a kill shelter in Texas,
picked up as a stray on a
frontage road off Interstate.
She is not a Wire or even a
Wire mix but she sure is
darling. My guess is Yorkie-Shitzu or Lhasa. She is 12 inches tall at the shoulder, weighs 15 pounds and her weight is perfect - not thin or too heavy. She has a Yorkie coat and colors, silky but doesn't shed. She loved her bath and blows dry such a little Diva. Her body is long and legs are short. She is Peppy, happy, playful, does well with other dogs her size or larger. She was not doing well with Chihuahuas. She is animated, intelligent, personable and a total laugh a minute. Mokie knows sit and dances for a treat and can give you that Big eyed Pout if she does not get her way. She loves chew toys but is frightened of squeaks. She loves to be on my lap, very affectionate, wonderful temperament with all the tests I have given her. This little girl just wants to have fun. Mokie is a name we gave her it just seemed to suit that cute adorable face. She is house trained, Crate trained but pulls on her leash. She rode well in a car from Texas to Iowa. Mokie is perfectly healthy and needs a "forever Home" but is quick and an escape artist so she needs an owner who can keep up with her and a secure yard. I would strongly recommend Obedience classes for her so she can bond and see who is leader. I really think Mokie would do whatever she can to please you once she understands what you are asking. She is a love and will be a perfect portable little companion for the right home.
Please submit an Application so we may be able to answer any questions regarding a Rescue Wire Fox.
Spayed
4 DX Heartworm Tested
On HW Preventative
Rabies Vaccination
Distemper Vaccination
Bordatella Vaccination
Fecal Checked
Micro Chipped
Hannah & Holly
Please submit an Application so we may be able to answer any questions regarding a Rescue Wire Fox.
Hannah and Holly are two of the sweetest girls ever. They are just a little shy but that only adds to Southern charm. The girls are from Tennessee, owner surrendered because of allergy issue with one of the children. The Sisters had been banished to the back yard to live and their Owner said their fur was badly matted and since they have so many pine trees in the yard they had a lot of Pine Tar. The girls rolled in it and their fur was stuck together like glue. They were both shaved as short as they could be shaved and their skin is red and very warm from razor burn and sun burn. They are doing better now. Hannah and Holly are going to be really great looking Wires once their fur grows back in. They have lovely bone structure, nice head shape, great ear set. I can't wait to see how pretty they are going to be. Hannah and Holly are 4 years young, well behaved in the house and so easy to love and enjoy. They are House trained, Crate Trained and Leash Trained. They are loving, playful and so cute. They have the most darling expressions, you just can't help but Fall in love with them. They love toys, treats, snuggle Beds and just enjoy being in the house on a lap or playing. Hannah and Holly are fine with other dogs and are fond of each other, but will be placed in separate homes unless a family would like to adopt two. The girls are fine without each other. They are off to see Dr Frost next week where they will be evaluated and have all their vet work updated and Microchipped. Check back often and watch the metamorphous from Cocoon to Butterflies happen. They are in need of a loving forever home with someone who has a loving gentle nature and wants a Companion to love and Pamper.
Spayed
Heartworm Tested
on HW Preventative
Rabies Vaccination
Distemper
Bordatella
Fecal Checked
Ears Cleaned
Micro Chipped
DONATE TO
PUTTER PATELLA SURGERY
VIA PAYPAL LINK
ABOVE
Putter was seen at Avenue of the Saints Animal Hospital on September 2, 2014 for an unusual gait in his rear. An extended view radiograph was taken of the rear legs. It was noted that the right patella was luxated. On palpation the patella (knee cap) was fixed over the medial condyle versus on the side of the condyle which is more commonly the case. The nature of this lesion leads us to believe that it was a traumatic injury that caused the patella to luxate and not a congenital defect. Surgery is recommended to improve the mobility of the leg. Prognosis for recovery and improved mobility is good. Estimate given by Avenue of the Saints Animal Hospital for this surgery is $1,100. Putter is scheduled for Surgery on September 16, 2014.