WIRE FOX TERRIER RESCUE MIDWEST
Gallery of Dogs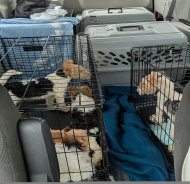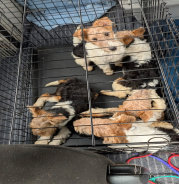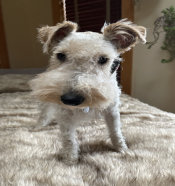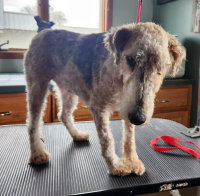 Ellie
Miss Ellie has joined
WFTRM and lives in
Louisville, Kentucky
at the present time.
Ellie is such a pretty
lady rescued from
Craig's List. Her owners appeared to be rather harsh, cold, unloving and lacked any kind of understanding a Wire Fox Terrier. We are so thankful to Betty and Richard, our awesome helpers in Kentucky for making the drive to go and rescue her. Ellie was born 6/17/07 and seems to be in good health even though she is thin. She came to us spayed and vet work all current. We will be taking her in for checkup this week including blood panel and dental. Ellie is stressed and a little confused but adjusting and readily accepting the kindness love and great care her foster home is giving her. She loves her crate, she is well house trained, loves tummy rubs, rides nice in a car, walks really well on a leash. Ellie is very social and enjoys trips to PetSmart to buy new toys. She is as cute as Wire Girls come but like 90% of them does not like to share her home with other dogs. She is a territorial little girl who needs to be an only dog and requires an experienced owner who understands and enjoys the challenges of a Wire Fox Terrier. Ellie is ready to begin a new life this time with a family who enjoys Wire Fox antics, quirks, has a sense of humor and see the challenges of a Foxie fun to work with. Ellie has spent enough of her life in the wrong home she is ready for a new adventure!


Spayed
Heartworm Tested
on HW Preventative
On Frontline
Rabies Vaccination
Distemper
Bordatella
Blood Work Panel
Ear Cleaning
Micro Chipped
ELLIE IS
LOCATED IN
Potter
Potter is a sweet, loving Wire Fox boy who loves to sit on your lap and be petted. He enjoys just being with you and watching whatever you are doing. His kisses are gentle and he is very easy to love. Potter walks great on a leash and sits for treats. Fetch is another favorite and he will bring you a toy and then gets so excited he runs in circles waiting for you to throw it. He likes his crate and will even lay in it when the door is open and is fine for a couple of hours in his crate while you are gone. Potter does not like to be left alone outside and understandably so as he was living in an outdoor kennel when he was rescued from North Carolina. The hair on his snout was worn off from rubbing on the bars begging for his freedom. His hair has grown back now and is he ever adorable. Welcome back Potter! He is friendly with everyone he meets and is fine with most dogs but would do best as an only dog home. He is not aggressive but annoys them with his constant show of dominance. Potter has a good prey drive going as well so no small critters or cats for him. He is house trained and looking for that home where he can be pampered and feel loved. Potter is around 6 years old and is a little fellow weighing 14 pounds. He has the cutest Wire Fox Strut and will be the envy of the neighborhood showing off his handsome looks and swagger.


POTTER IS LOCATED IN
Neutered
Heartworm Tested
On HW Preventative
On Frontline
Rabies Vaccination
Distemper Vaccination
Bordatella Vaccination
Ear Cleaning/Cytology
Bath/Groom
Micro Chipped
Send Application to:
ccswires@netins.net
Send Application to:
ccswires@netins.net