WIRE FOX TERRIER RESCUE MIDWEST
Gallery of Dogs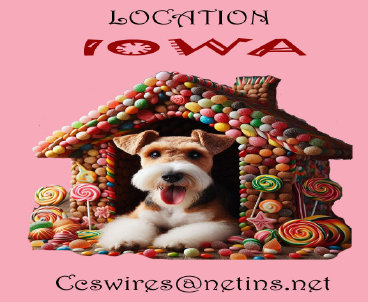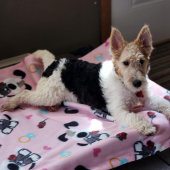 Annie
She is little orphan Annie . . .
well maybe not so little but
she was left homeless with
nowhere to go. Annie is a
friendly and social Wire Fox
girl who wags her nub tail at
everyone she sees. She has a stay calm and carry on attitude with a loving personality. Leaning on the independent side is she with "selective hearing" – pretends to not hear you call her name but can hear cheese being taken from the refrigerator two rooms away. Annie was born September 20, 2002 which surprises most people when told. She has a heartwarming sense of humor and likes to hide behind curtains and when you look for her, peeks her head out and smiles. She is sprightly and inquisitive checking out every nook and inch. Even with her plump frame she can zip out the door if given a chance. Annie is well mannered, nice on the leash and in the car and while out and about and must smile and wag hello to the world. While checking in at the animal hospital she marched right up to the counter and wanted to go behind where all the girls were and thought she was going behind to do some visiting. It was very busy and a customer with a cat took the seat next to us . . . and Annie did not care one bit. How could a sweet Wire Fox girl be an orphan? Her story begins with a family in a rural area of the Midwest. After both owners died, they left behind an adult daughter who was mentally challenged and Annie continued to live with her and various caregivers that would come and go. The daughter is now ill and in the hospital and not returning and Annie was left all alone. Her care was compromised over the years, her skin needs some tending, her teeth badly in need of a cleaning, her right ear infected, and she has a large lipoma on her rear right leg. Annie was accustomed to eating table food and snacks which are not on the menu anymore and her svelte shape will be returning. When the doctor called with the result on the aspiration, she said the staff was eating chips in the back and Annie was barking at them as if to say . . . pass the bowl over here! Annie has had her full dental cleaning and the removal of the fatty lump on her leg and all went very well. Her bloodwork and all tests came back normal and she is a healthy, happy girl who simply needs a diet change. She is a true Wire Fox girl who will keep you smiling and you young and active. Senior Wires need love and affection and deserve a home in their special years too so please do not pass up the opportunity to experience what rescue is all about.


Spayed
Heartworm Tested
on HW Preventative
Rabies Vaccination
Distemper
Bordatella
Fecal Checked
Full Blood Work Panel
Urinalysis
Ear Cleaning/Cytology
Radiographs
Thyroid Test
Full Dental Cleaning
Tumor Removal
Micro Chipped
ANNIE IS LOCATED IN
Olivia
Buckley
Buckley has brought his bed to WFTRM and is settling in. He is an eccentric fellow who is smart and entertaining as well. When he sees his leash, excitement fills him as he loves going for walks. Same thing for car rides – a travel he must go. If he sees you are leaving, he tries hiding either outside or under the bed to try and foil those plans. Buckley is a cuddle bug and will curl up in the opening of your legs. He also likes to sleep on his back and must have his stuffed donkey with him tucked in at night for bedtime. He can climb a gate if a wall is nearby to shimmy up and will seize any opportunity to zip out the door. Buckley is very inquisitive and loves to explore both outside and inside especially your counters. He is 10 years old and very active and all Wire Fox boy. Due to life changes, his owner who loved him to pieces has had to relinquish him. She had adopted him from a Shelter in 2008 and worked with his insecurities and made him feel loved and safe. Buckley is looking for a home to bring his bed and donkey and be the very best companion and smile maker you could ever hope for.


Neutered
Heartworm Tests & on
HW Preventative
Rabies Vaccination
Distemper Vaccination
Bordatella Vaccination
Fecal Checked
Micro Chipped
BUCKLEY IS LOCATED IN
Neutered
Heartworm Tested
On HW preventative
Rabies Vaccination
Distemper
Bordatella
Fecal Checked
Full Blood Work Panel
Full Dental Cleaning
Ear Cleaning
Grooming
Micro Chipped
Oh my . . . Olivia . . . if only you could tell us where you have been. Where you are going is much brighter and a wonderful place. Olivia was picked up as a stray in Kentucky and brought to the Shelter. Her coat heavily matted and crusted with nails so long one dew claw was wrapped around her foot. She is a petite girl around 17 pounds that the Shelter believed to be around 8 years old. Olivia was delighted to be sprung and enjoyed the car ride to her foster home. She was amazing for her bath and groom – even through all the brushing, cutting and desnarling it was cooperation all the way. After all was done . . . a beautiful Wire Fox Terrier girl emerged. Her tri-color coat is just lovely with some ticking and buttery brown ears. Olivia was taken to the pet store as a treat and walking on a leash is another area she gets high marks for. She surveyed the entire toy aisle, found a pink piggy and sniffed it. Then she looked up as if to say, may I have this one please. The answer was yes! She loves toys and has such a fun and comical personality even after what she had gone through being out on her own. Olivia enjoys affection and curling up on your lap. She is house trained and very well mannered – must have been someone's pet at some point in her life until it went totally wrong. Olivia seems to know and like wearing sweaters and coats and happily posed – pink is definitely her color! She will be moving up to WFTRM in Chicago this weekend and get all her procedures and vet work. She is in need of spay and badly needed dental cleaning. Olivia is Over the Moon to be a pampered princess once again and will make her Forever Home shine bright with love.


OLIVIA IS LOCATED IN
All Vetwork and Surgeries are Scheduled
Buddy
Buddy just bounced into rescue one day out of the blue. We were notified of this very sweet, rather shy, gentle laid back Wire who was in a shelter. A very nice lady working there noticed Buddy was stressed and sad living in a shelter. She decided WFTRM would be able to offer this gentle guy a foster home. Katie was correct. We jumped at the chance to bring this loving little guy into rescue, and he was picked up the next day. Buddy arrived safe and sound but apprehensive. He loves patrolling the yard, checking every nook and Cranny. He sits on the patio sniffing the breeze as though he is wondering where he is and why he is suddenly in a new home. Buddy was surrendered to the shelter because of financial reasons. He is submissive with the other dogs, thankfully he has found a new friend or two. He likes Cooper and they do occasional Zoomies around the back yard. He seems curious but wary of other dogs. I had to cook him up some ground chuck and Rice to get him to eat, poor baby was so worried. He gobbled that up with no hesitation. His first night here it took a while to figure out where Buddy would decide to sleep. We tried our doggie room alone and lose so he could just make himself comfortable. He barked after about 15 minutes. Then we tried a comfy crate in the kitchen, nope he doesn't like crates. Finally I just let him have run of the house and he quickly picked out his favorite bed, snuggled in and looked up at me to let me know this was going to be fine. I left him there for the night and no problems. He was a very good boy and apparently Well house trained. He has decided that bed is his favorite place to roost. Buddy's surrender paperwork says he is Happy and Active likes to run away if not fenced. I have a feeling once he feels more at home he will get his Wire Spirit and zip back. His owners said he is good with kids. He loves car rides which have proven to be true. He is fun on walks and is a loving companion with no behavior issues. I have a feeling the day they had to drop Buddy off was a sad day for a loving family. Buddy is adjusting. He knows he is safe and loved. He is off to have a complete check-up to confirm what I suspect Buddy was well cared for, healthy and in need of another Loving Home.


BUDDY IS LOCATED IN