WIRE FOX TERRIER RESCUE MIDWEST
Gallery of Dogs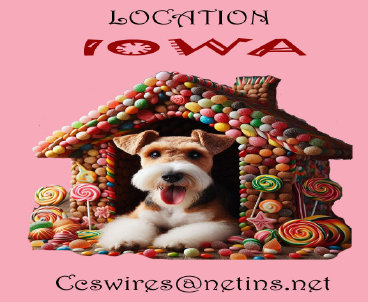 Lexie
This pretty filly hails from
the Kentucky Derby area
and she is off and running
to find herself a Forever
Home. Lexington is her
fancy name but she is called
Lexie for short. She was
born February 7, 2008 and had been with her owner since a pup but changes in life and work travel has put Lexie in a tough spot. A loving neighbor had taken the darling in and contacted WFTRM to help her find that right place to race. Lexie is a very busy Wire Fox girl who is alert, curious and loves to run and play. She is wild about toys and isn't about to share them with any other dog. Lexie gathers her toys and puts them all in her bed. She isn't dog aggressive however she is only nice to others if they are willing to lay back and just watch her play. She would be best as an only dog. She is a Tiny beautiful Princess who loves to cuddle and be spoiled and pampered. She gets excited about car rides and loves to go when you go. Walks are another favorite past time. Lexie could use leash training as she does fine until she sees something of interest and then there goes your arm. Watching television is one of her past times she likes to take over a recliner lay back relax and watch any show. She intently watches and does that famous terrier head tilt. She was after all the cats in her temporary foster home so that is not an option for this gal. Lexie is a very social girl. Loves everyone who takes time to talk to her and tell her how special she is. She needs a fenced yard so she can run around then come in and rest her pretty head on your pillow. Lexie has been spayed, vaccinations are all current, Heartworm tested Neg. full blood panel, dental and Microchipped. She is as Healthy as she is adorable. Lexie will be a wonderful companion, perfect for a retired person or someone who is at home most of the time. Lexie enjoys company and will add spark and fun to your day. She is full of Wire antics, cute, comical, intelligent with just a pinch of mischief.


Spayed
Heartworm Tested
on HW Preventative
Rabies Vaccination
Distemper
Bordatella
Ear Cleaning/Cytology
Micro Chipped
LEXIE IS
LOCATED IN
Potter
Neutered
Heartworm Tested
On HW preventative
Rabies Vaccination
Distemper
Bordatella
Fecal Checked
Full Blood Work Panel
Full Dental Cleaning
Ear Cleaning
Grooming
Micro Chipped
WFTRM has another sweet little guy who is looking for a Forever home. Potter was rescued from a shelter in North Carolina a few weeks ago. His vet work is all finished up and he is a healthy tiny little guy who weighs just 15 pounds. He is action placed, loves to explore, give endless kisses and is always ready to cuddle. He would not be a good choice if you have Cats as he has prey drive for small fuzzy animals. Potter lived outside in a Kennel, that is why he has missing Fur on his little nose and ears. Life has been hard for this little guy but we know he will find that perfect forever home very soon. We guess Potter so be around 6 years young. He truly loves everyone he meets and is learning how to walk on a leash, enjoy toys and how great it feels to be loved. Potter would do best as an only dog. He is not aggressive to other dogs but he annoys them with his constant show of dominance. Potter needs a home with a big fenced yard and someone who is looking for a little guy to pamper. He lives in North Carolina currently but will be moving to Iowa soon unless a home is found in the near future.


POTTER IS LOCATED IN NORTH CAROLINA
Neutered
Heartworm Tested
On HW Preventative
On Frontline
Rabies Vaccination
Distemper Vaccination
Bordatella Vaccination
Ear Cleaning/Cytology
Bath/Groom
Micro Chipped
Buddy
Buddy has a New Look, New
attitude, all vet work done and
is ready to find a Forever Home.
His Health is Perfect no concerns
at all. Buddy had a Fatty tumor
removed from his leg the pathology
report is back Benign Lipoma. He also had a full blood panel all normal, much needed dental, all vaccinations are up to date, fecal came back NPS. He tested Negative times 4 on the 4DX Heartworm test no Wonder he feels so great now. He is 8 years young and has energy and playful spirit to spare. Buddy is just as sweet and gentle as when he arrived in rescue on March 20th. Buddy arrived gentle, shy, Curious but apprehensive, now his life has taken off in a new direction. He is not shy any more, in fact Buddy Loves people. Buddy races to the door anxious to greet everyone. He sees a leash and we better be prepared for a walk, so he isn't disappointed. He loves to ride in the car with his Seat Belt harness on relaxes and enjoys the ride. He loves to play fetch, tug and like all Wire Boys he gives his toys a shake. He patrols the back yard checking to see if any squirrels or bunnies have ventured into his territory. He is a hunter so NO cats in his future home. Buddy has been fine with the other dogs here, seems to enjoy the companionship of the others. He has learned the signal for his humanís bedtime and promptly gets up and follows into the bedroom. He loves to snuggle in at the foot of the bed. He is well house trained and ok in a crate however he is never crated. He is fine when we leave. He and Toodles will share her BIG doggie bed every now and then he likes to snuggle with Toodles. She is our tiny, adorable Rescue Ambassador here in Iowa. Please give our Buddy Bear a chance. 8 is NOT old for a Wire Fox Terrier and Buddy is so anxious to have that loving home of his own.


BUDDY IS LOCATED IN
Send Application to:
ccswires@netins.net
Send Application to:
ccswires@netins.net