WIRE FOX TERRIER RESCUE MIDWEST
Gallery of Dogs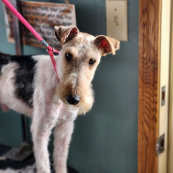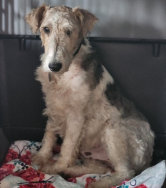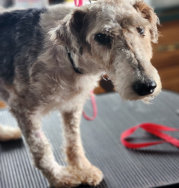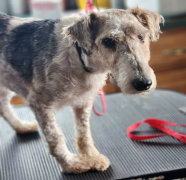 There are 4 Gallery Pages featuring Adoptable Terriers. Click the Next or Previous Wire Fox to Proceed.

Frannie
No Foolin' . . . This Wire
Fox girl is absolutely
adorable. Frannie was
born April 1, 2012 and
will be turning two years
old. She is all terrier, a tad
of a tomboy and nothing
girlie about her. She loves
to play outside, racing
around and seeing all there is to investigate. And she does not miss any of the action. Frannie is a busy girl who likes to have chores, activities and adventures. In the evening, she enjoys snuggling on your lap and will lay on her back with all four legs straight in the air. Rather than on your bed, she is found under your bed as her sleeping spot of choice at night. Frannie is well house trained, walks very well on a leash and likes travelling in the car. A very smart little girl too knowing sit, down, shake hands and does the cutest little dance for treats. No Foolin' . . . Frannie even comes when called and waits for her reward. She has received very good care since a puppy by her owner. About 6 months ago, the fighting started with her and the older JRT male and it was escalating and becoming serious. Her owner knew Frannie would be much happier as an only dog in a more pampered setting. Wire Fox girls do not like to share. She is very well mannered in the house and takes great pleasure in being with you. Frannie is 18 pounds and in perfect health. She is a real keeper and will make that special someone a fantastic companion.
Spayed
4 DX Heartworm Tested
On HW Preventative
Rabies Vaccination
Distemper Vaccination
Bordatella Vaccination
Canine Influenza Vacc.
Fecal Checked
Micro Chipped
Please submit an Application so we may be able to answer any questions regarding a Rescue Wire Fox.
Sunny
The sun stopped shining when her owners dropped her off at a Shelter in Texas after 10 years. Sunny is a senior Wire Fox Terrier girl who is calm and sweet natured. The anxiety of being in a kennel or animal control cage is very upsetting for Wires, especially ones who have known a home environment. She was so terrified, sitting in her accidents which stained her fur. Sunny was pulled by a rescue colleague who gave Sunny a much needed bubble bath, feeling of being safe and saw her on her way to WFTRM. After a toy filled stay in OKC and making everyone's day brighter, she was off to Rescue in Iowa to meet the rest of the gang. She is a friendly girl but can be a bit bossy and probably feels she has seniority. Travelling in the car she was great, walking on a leash she was great and her spa day at the groomer . . . she was great. Sunny is so pretty and fluffy and her smile is beaming with pride in her appearance and being loved. She weighs about 25 pounds and would benefit from losing a few pounds as her frame is small. She is eating well, sleeping well and has the best disposition. Sunny sure had fun pulling all of Emma's abundance of toys out and on the floor, testing each one gently for squeaks and being careful not to rip them. Spending time with Sunny is a joy and there are no cloudy days with this little miss sunshine around.
Please submit an Application so we may be able to answer any questions regarding a Rescue Wire Fox.
Spayed
4 DX Heartworm Tested
On HW Preventative
Rabies Vaccination
Distemper Vaccination
Bordatella Vaccination
Canine Influenza Vacc.
Fecal Checked
Micro Chipped