WIRE FOX TERRIER RESCUE MIDWEST
Gallery of Dogs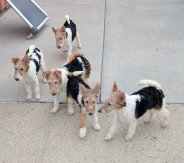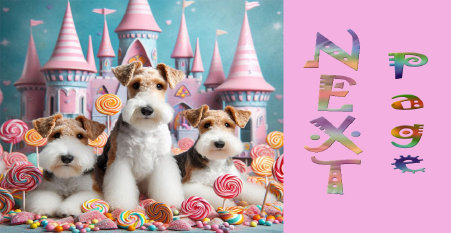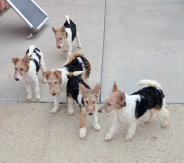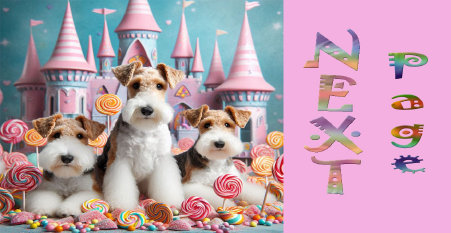 Chester
Chester is a 5 year old Wire Fox Terrier who has not had the best life, but that luck has changed and he is now with WFTRM. Chester was dropped off at a New Mexico shelter in appalling condition – so sickening and sad it makes you lose faith in people. He was abandoned by his original owners when they moved and the rest is probably just better left not known.

October 10, 2016 was the beginning of a new, pain free and loved life. Read his journey from the beginning by clicking the Chester - Rescue of a Neglected Wire Fox Terrier.
Monday morning October 24, 2016. Chester received: Dental Cleaning, Deep Ear Wash, Removal of a small epulis,a fleshy benign tumor on his upper gum, behind a molar, Removal of a cyst on his back (between his shoulders … lovingly referred to as "a country of its own"), Removal of several sebaceous adenomas, Corrective surgery for his eyelids, so they do not further irritate his eyes, and X-rays of his back right knee (where there is evidence of ACL damage) and "ankle" (the calcaneous bone has an old fracture, poorly healed) to determine what, if any, course of orthopedic treatment can be considered once he heals up from the immediate surgery.

Chester loves life now, napping in the warm sun puddles and sunshine. He loves joining in the group rather than watching and he is discovering what toys are how to have a little fun. Chester has become an early riser, before sunrise and wants to go out and start his day. He does not want to miss a minute of this glorious world he is now experiencing. Chester knows how to get right in the line up for treats. He is a treat!
Chester's appointment on November 5th went well and he was given the all clear for surgery. On November 9, 2016 Chester underwent DeAngelis method ACL surgery.
Please Help with Chester's Medical Expenses. Click Link above for Cheers for Chester Medical Fund through Paypal.
DONATE TO THE CHESTER MEDICAL FUND
He's home! Comfortable and resting! Dr Batch called early this morning and said Chester had done really well through the afternoon, evening and night yesterday (Wednesday), as was ready to come home. Ate well. Weaned off of the Fentanyl well. Took his oral pain meds well. And was barking. And barking. No surprise there. He does NOT like to be confined when he could, instead, be with people! (They said he had no anxiety … just wanted attention. Sounds VERY familiar!) Once he got the attention of the staff (who all loved him), he was fine! (I love this boy.)

When I went to pick him up, I spent about a half hour with two of his nurses, who did his first physical therapy session of the day. (They sent home a twelve week print-out of procedures and exercises.) His therapy started with a thick warm blanket. Nothing but the best. And then several minutes of massage to warm and relax the muscles. He loved it. (See video 1 in a separate email or text message, whichever works best when I go to send it. That was followed by range of motion (ROM) exercises at the hip, knee and hock … for about ten minutes. He was good for it … squirmed a little at the hip, but only briefly and then he relaxes and let us gently keep handling him. After the ROM, he was gently placed on the floor and led around the room in a slow walk. Since he is already toe-touching, he will do that two-to-three times a day for about five minutes each time. After the slow walking exercise, he got to lie down again and enjoy cryotherapy (ice packs around his leg), for about 15-20 minutes. He was in heaven again, as we were all stroking him and telling him what a good boy he is! At one point he picked up his head as if to say, are you still here? When he saw that we were, he put his head back down and snoozed. That will be the twice a day regime for the next three days. Then we can start adding heat to the massage to warm the muscles prior to the ROM exercises. The immediate goals are to control swelling, improve ROM and manage pain. On day five (for three weeks post-op) the goal will be to add increased weight bearing at a walk, while continuing to reduce swelling, bring ROM to normal and manage pain. At that point, moist heat gets applied with massage before and after ROM, and leashed walks get very slowly increased in duration and frequency. The instructions are very specific and extend beyond the two week follow-up appointment for another ten weeks.
He was a real trooper at the hospital. He settled comfortably into the car for the ride home and let me carry him into his freshly prepared bed. It didn't take him long, though, to get up and tenderly walk over to the water bowl for a long drink of fresh cool water. He briefly toe-touched as he walked (a couple of times) but did put some weight on his leg as he stood and drank. (I've placed a non-skid rug near the feeding and water station … don't want the boy to slip … and that was actually another of the suggestions … to avoid slippery floors. We'll make sure of that.) He went back to his bed and got himself snuggled in … even sleeping on his operated side. He seems comfortable. It was nice to hear him let out a nice long sigh, and then fall asleep. We'll keep him on his eye, ear and now ortho medication schedule (switched his eye meds from NeoPolyDex … which contains an antibiotic, which he no longer needs … to PredAcetate and will continue the cyclosporin ointment), watch his incision, watch for fatigue and/or discomfort and keep him under very close supervision. He's not allowed to go up or down steps for a few weeks, so he'll get carried outside to do his business and lots of dog beds will be made available near the sofas and couches. Certainly he'll be next to me when I'm sitting for any length of time, as he really really loves that. All the while that we're (TheGirls and Jake and I) gently nursing him, we'll be reminding him how many people love him, are supporting and encouraging him and sending him gentle hugs and kisses. We truly do appreciate all the support. He's been a costly boy, but WORTH EVERY PENNY. And he so very much appreciates it. I can tell.
CHESTER IS
LOCATED IN
Chester loves the massage and tolerates the range of motion. He does not understand why he must slow down on the walks and wants to trot. He is not a fan of the ice packs. Chester is doing quite well and will return to the doctor for a follow up visit on November 25th.
Chester's recheck went great - his ears are looking good. He has now dropped back to every other day on the Baytril Conofite Dex. His eyes are still quite dry so he is staying on the Cyclosporin ointment 2x a day, Prednisolone Acetate 2x a day, and natural tears. The lower right & upper left eye lids that Dr Batch sutured up seem to have tucked back the eyelashes there, but the lashes on the upper right lid now grown lay on the cornea. It may be that he'll need another "eye lift" in the future. His incisions have all healed nicely, including his back right leg. No infection or inflammation. His response to the CCL surgery is wonderful. Dr Batch said he is actually ahead of schedule - probably a week - given just two days over two weeks post-surgery.
Chester is now ready for physical therapy, and the therapist can specifically direct the intervention. Dr. Batch said it takes at least three months for maximal healing and progress. The PT will be able to tell such things as if there are contractures at the hip (he resists a bit of hip extension) that can be worked on and stretched out, and if there is tightness at the calcaneous bone (hock) that influences his weight bearing and gait. His knee (stifle) is completely stable and has responded well to the DeAngeles CCL surgery. Even the crepitus (crackling and snapping and popping) is improved! What we are doing now is perfect to continue (massage, ROM, slow controlled walking over slightly increasing periods of time, three times a day, ice). We can back off if he seems fatigued, but try not to accelerate the process. It is important to keep him moving slowly when walking for exercise, as that is what encourages him to walk on all four paws. He stands on all four, but continues to off-weight on his back right. Dr Batch refilled the Carprofen (pain) medication for an additional month. The goal will be to get him off of it completely, but for now it's okay to continue. (Since this boy is nearly impossible to keep from running and jumping … he sometimes thinks he's healed and sneaks in at least a couple of jumps onto furniture a day, and a couple of zoomies through the house with the other dogs each week, he is at risk of stressing his little leg. Chester is ready for his Forever Home.